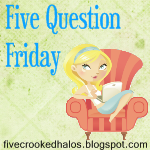 To participate click on the icon that lead to MamaM blog to read the rules.
Soo this is my second time here, I don't know for how many times I will keep the count, however, this week I saw something intriguing.
1.
What is the first nightmare you remember?
I was 8 years old I think, and it was about a bunch of flies, I hate bugs.
2.
Even if you're not a sports fan, what's your favorite sport to play/watch?
I'm not a sport's gal, but if I was forced to watch some sport I would say:
now you know how old I am.
3.
If you could pull off one piece of trendy fashion, what would you want it to be (

jeggings

, hats, thigh high boots, etc.)?
Agree?
4. D
id you make good grades in school?
What was the question again?
5. What magazines do you subscribe to?
No well, "once upon a time" I subscribed to interiors magazines, do you know that I love furniture?
But now with all the free resources online and all the blogs I read daily it would seem to me a bit pointless, besides, half of the magazines it's all advertising.
Shame on me for not supporting the economy.