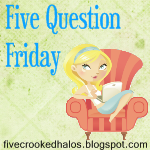 Hm, my first time here, I feel sociable today!
1. H
ow many pets do you have?
None, well, do my two kids count?
2.
If you could switch places with anyone in the world for one day, who would it be?
Only one day? I would switch with the richest person in the world, thus making a large transfer to my former bank account.
3. What is
your favorite money saving tip?
No? Ok I'm serious, make a budget and stick with it.
4.
What do you want your kids to be when they grow up?
An happy version of themselves.
5. W
hat is your favorite quote?
I know that I know nothing.